How to make an egg-cellent Easter card
Published on

March 29, 2023
By

Christine Leech
1

min read
Learn how to make an Easter card bursting with beautiful blooms! This Easter card tutorial from Christine Leech aka @sewyeah, features a really fun and simple design, created using floral punches and hot foil pen - super quick to make and one everyone will love!
Fold a piece of A4 card in half. Using the template provided, cut out an egg shape in a contrasting cardstock color.
Punch a selection of flower shapes in a mix of colors. Mix and match the colors and sizes until you're happy with your selection of flowers.
Using a closed pair of scissors, curl the outer edges of the flower shapes to create a 3D effect. Leave flat any flowers you want to add gold foil to. 
Cut a small section of foil and place on top of one of the flowers. Use the hot foil pen to draw small dots or a pattern in the middle of the flower. Make sure you do this on a piece of card to avoid damaging your work surface. Repeat with all necessary flowers. 
Glue the flower sections together. Use the head of a glass tipped pin to apply the glue so you don't get too much on the flowers. 
Add more decoration to the egg shape using the hot foil pen and glue the flowers in place. Alternatively, you could use the small 3D glue dots to give some flowers extra height!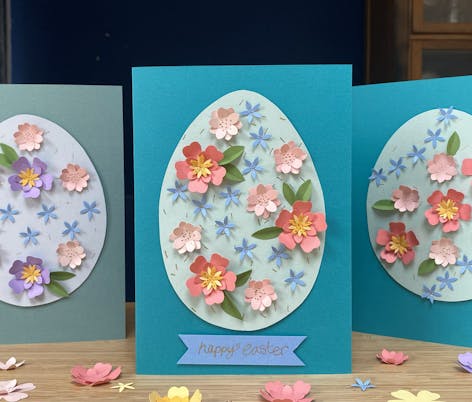 Shop more Easter card making supplies
Hop into more Easter crafts