Designers of the month: August
Published on

July 31, 2018
By

Milly
3

min read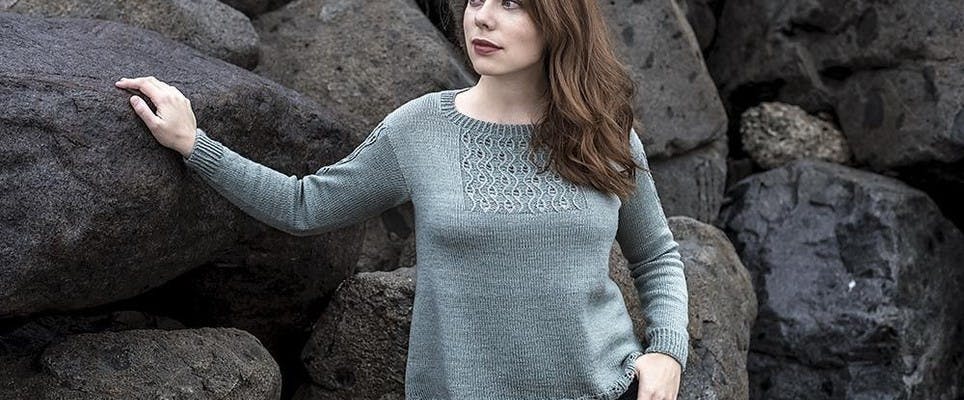 Join in our celebration of independent design and meet our designers of the month for August: Irina Anikeeva and Lisa Chemery
Lisa Chemery: Frogginette Knitting Patterns
Originally from France, Lisa learned her knitting skills from her Grandmother, and is inspired by her memory with every one of her designs. Her exquisite patterns for babies and children are full of beautiful features and techniques, and a joy to knit.
Such a pretty little short sleeved cardi! Powder Blue is a gorgeous cardigan to pop over anything at all - a little cover-up on a breezy warm day, and a little bit more warmth for chilly afternoons in the park. Knit top down, the cables follow the line of the cardigan all the way down to the hem and are set off beautifully by seed stitch sections. So many beautiful features in one tiny garment. Sized from 0-3 months to 8 years.
Designed to match the adorable Silverfox Cardigan, the darling Silverfox Bonnet has the most beautiful cable detail with i-cord fastenings. The pattern is available in English, German and French, and in four sizes of head circumference measurement from 14 to 20". There's nothing warmer than a bonnet - it's cozy around the ears and doesn't fall off.
This adorable seamless shrug is knit top down, and a great little cover-up from 0-3 months to 5-6 years. Entrechat has raglan shaped cap sleeves, and the textured stitch pattern is a delight to knit. Originally designed in worsted weight, the pattern has been reworked for DK and fingering weight too, with a matching bonnet for each. (Pssst - there is even an adult sized Entrechat.)
Irina Anikeeva: Irmian Designs
Originally from Russia, Irina now lives in sunny California, where the warm weather has certainly not diminished her love of knitting! Her designs are perfect for knitters who love intricate work. Not just for advanced knitters, there are techniques to try in each pattern, from mosiac colorwork to cables.
If you love lace, this is the hat for you! The Alafair Beret has a slouchy fit with an intricate every-row lace design featuring leaf motifs inspired by Japanese knitted lace. You'll only need 290 yards/261m of 4ply yarn - use your favorite - one 100g ball or hank will be plenty. I can see this beauty knitted up in Fyberspates Vivacious 4ply, in any of the irresistible shades.
The Polesye Pullover is a stunning sweater, perfect to wear all year round. Knitted in a fingering weight yarn, there are feature lace panels on the front and sleeves, and around the hem. Such a stylish knit, and great if you are ready to take on some intermediate lace in small sections. I think this would be a wonderful knit in BC Garn Silkbloom Fino, a merino wool and silk blend - in any of the deliciously rich jewel and pastel shades.
Mosaic colorwork is a fabulous technique that is so easy to learn, with stunning results, and this is such a good first project if you haven't tried it before. Worked in garter stitch, the Cross and Diamond Cowl is easy to follow - the motifs are charted in bite-sized sections separated by plain knit bands.  Knitted in a DK weight yarn, it won't take forever to knit either. Try Willow & Lark Ramble for its squishy softness or King Cole Merino Blend DK, a fabulous value soft merino wool.
Who's your favourite designer this month?