5 inspiring stories we heard at Our Maker Life 2018!
Published on

August 29, 2018
By

Caroline
5

min read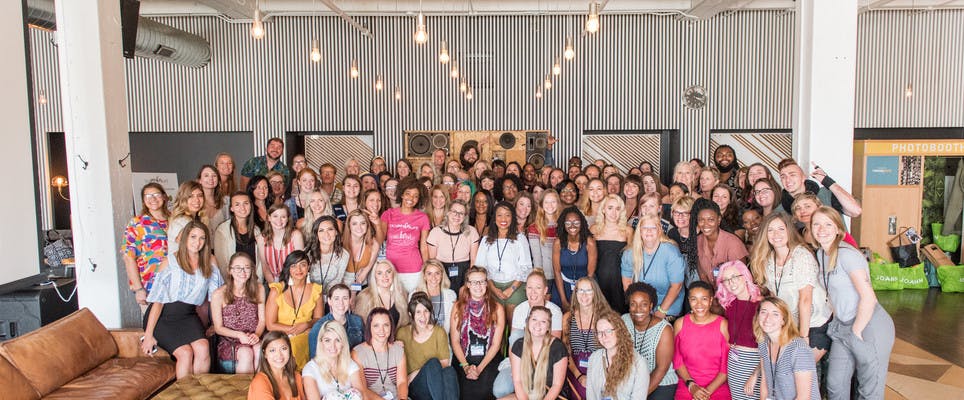 This summer, we had the chance to attend Our Maker Life 2018, and let me tell you, it did not disappoint! Like us, Our Maker Life (OML) is on a mission to celebrate yarn enthusiasts everywhere, uniting a community through a passion for making. They host an annual event in a different city each year, bringing together over 100 makers to network, listen to inspiring keynotes, and of course, enjoy some dedicated knitting and crochet time. We were thrilled to sponsor the event, and we met some truly inspiring individuals whose stories were not only totally relatable, but also full of undeniable wisdom and passion. Here are five of those stories we just had to share with you!
1. Brittany of BHooked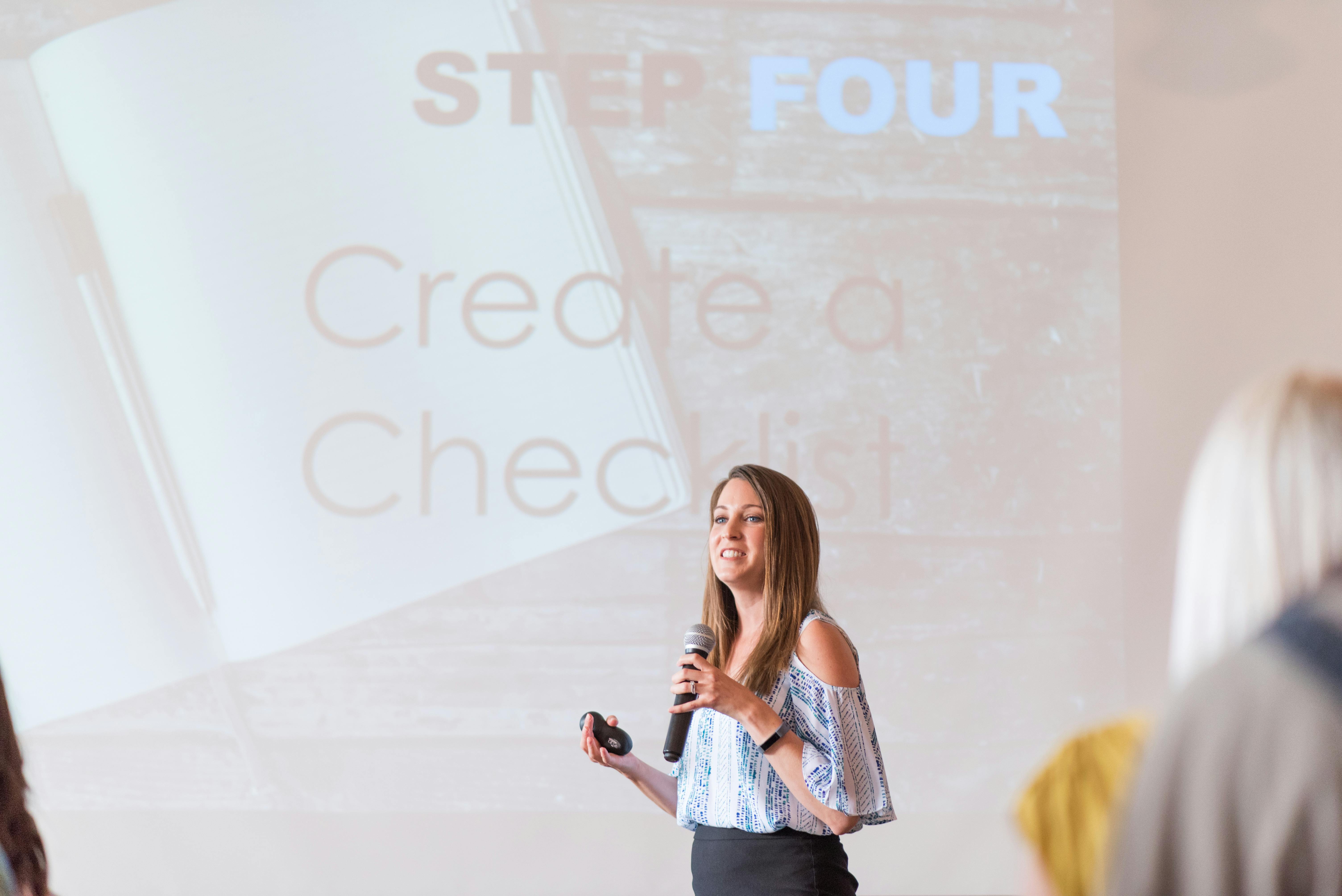 Brittany is the ultimate #girlboss. Designer, instructor, video host, and broadcast personality, Brittany of BHooked is on a mission to teach people how to crochet and how to turn their passion into profit. Her motivational talk about her own crochet journey had the audience hooked. Remember that first Instagram you posted, or the cringeworthy video tutorial you tried to make? Brittany humbly shared her own first YouTube tutorial, reminding us all that you've got to start somewhere! The secret in growing her own YouTube channel to over a quarter of a million subscribers lies in her drive and dedication. Utilizing different social media platforms strategically is also key. Brittany shares her content across YouTube, Instagram, Pinterest, and more, but always makes sure the content is relevant for that platform. Another Brittany tip for turning your passion into a successful brand is making the most of every hour of the week and dedicating time to your business. Her advice resonated with everyone: conquer fear, value your time, and stick with it, because there's so much potential for turning passion into profit while loving what you do.
2. Jessica of The Hook Nook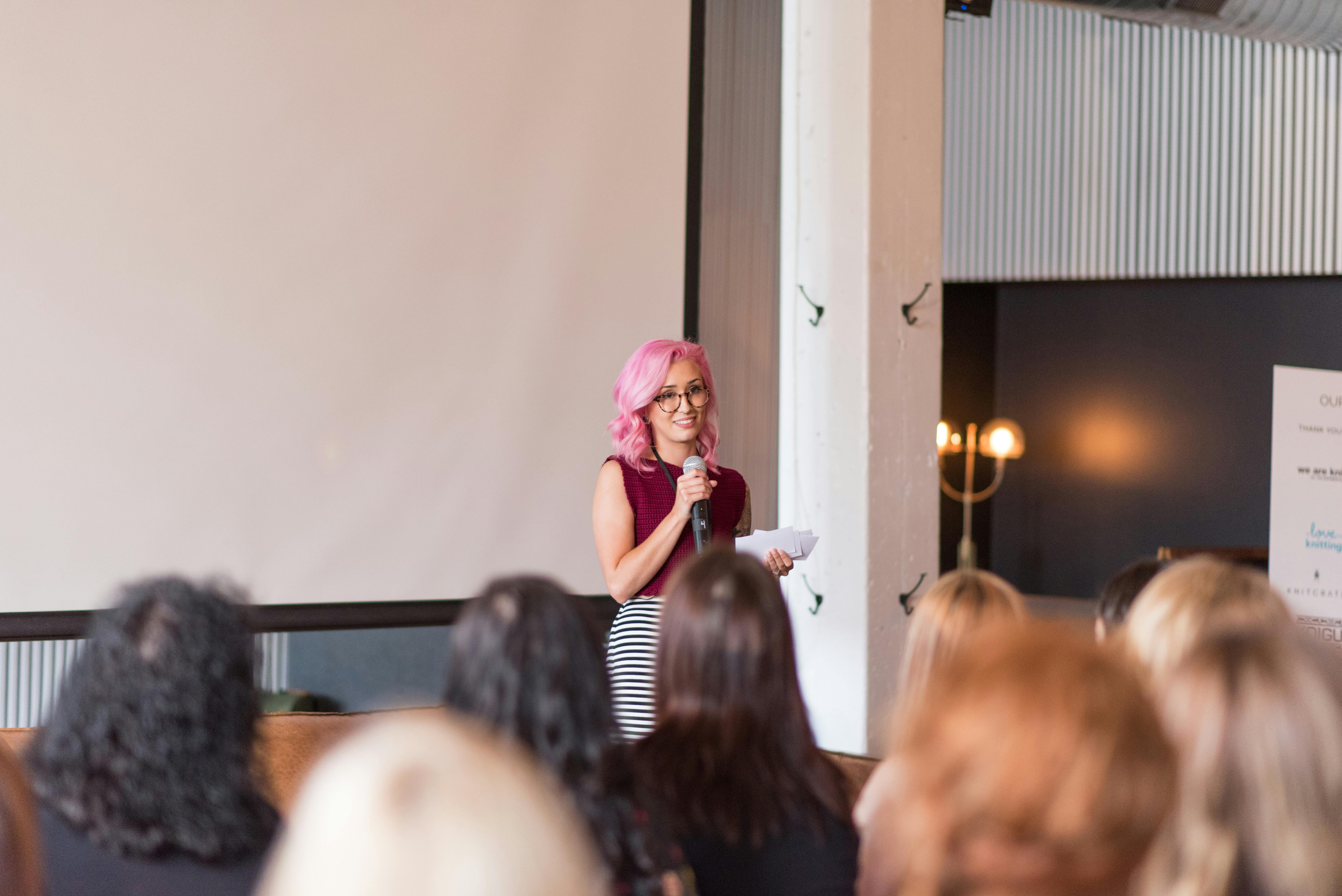 If there's one word to describe Jessica of the Hook Nook, it's real. Jessica told a very personal story of how crocheting helped her overcome the hardships she faced early on in life. She let down her emotional wall and got so real with us. Her story highlighted the power of the maker community and how finding your tribe, your support system, and the people that celebrate you through both success and failure, can make all the difference. We all know and love Jessica for her incredible crochet skill and her distinct, edgy-yet-adorable style that brings to life every part of her brand. But after hearing her speech, what makes her so lovable is how relatable she is to all makers out there. No matter who you are, where you are, or what you've been through, success is always within reach if you follow what you love.
3. Vincent of KnotBad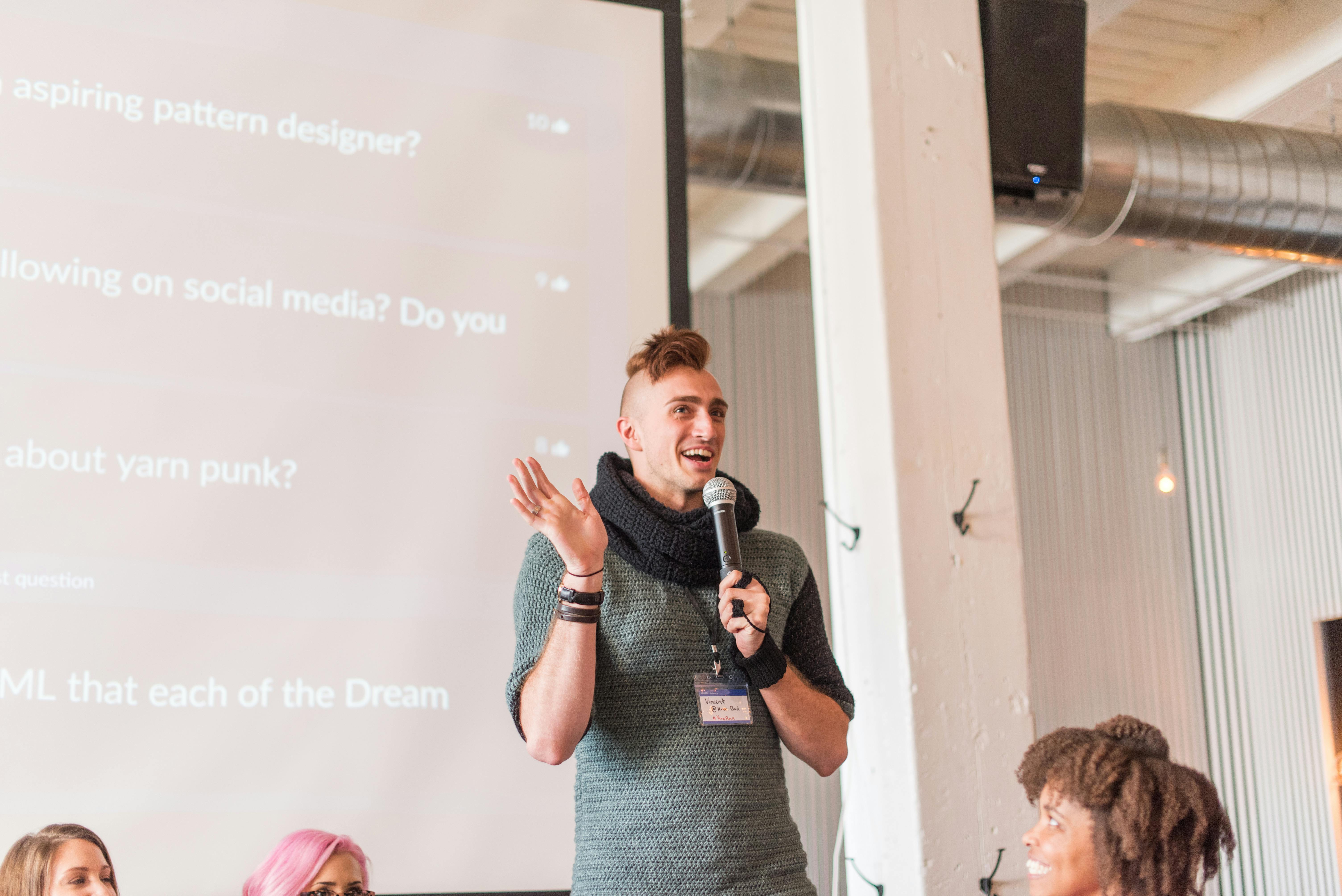 You may recognize Vincent for his wildly fun Instagram feed and cuter than cute crochets. You may also recognize him because he's one of the few men who is big in the crochet world. Vincent was a vibrant face at OML and his message for us was simple: crochet is for everybody. Not just for grandmas, not just for girls, but for everybody. While we all have certain notions about the types of people that crochet, Vincent urged us to remember that there are men out there passionate about fiber arts, and it was so refreshing to see him breaking down barriers and defying stereotypes like the #yarnpunk that he is. Not to mention, he's pretty freaking hilarious.
4. Jewell, Kelly, and Nathan of Our Maker Life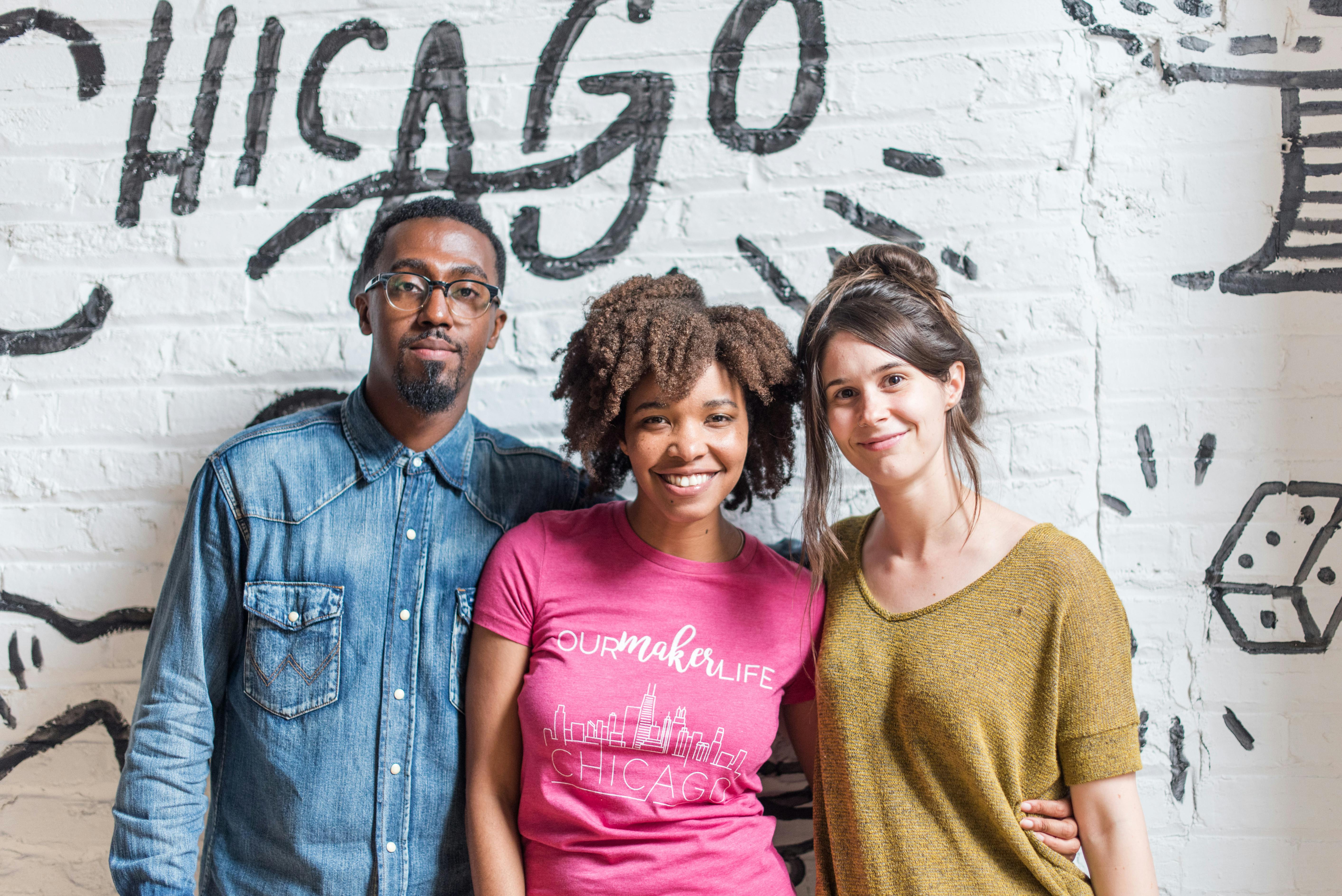 Meet Jewell, Kelly, and Nathan, aka the dream team behind Our Maker Life who made this whole event possible. Jewell, the founder, is equal parts radiant and go-getter. She spoke to the audience with such warmth and ease while simultaneously hustling like a boss to run the show. What resonated the most, though, was her brief anecdote about how OML became a reality and what it meant to her and her team. She realized the magic that knitting brought to her life and wanted to share and celebrate that sentiment with the community. What's so impressive about the OML movement is that it combines the love of making with entrepreneurship and being business savvy. OML supports makers and encourages makers to support each other, which is why the event was about having fun, but also about networking and learning how to create a profitable business with their makes. The event was magical, and seeing the OML team bring maker's dreams to life was rewarding beyond measure.
5. Lynne and Kelli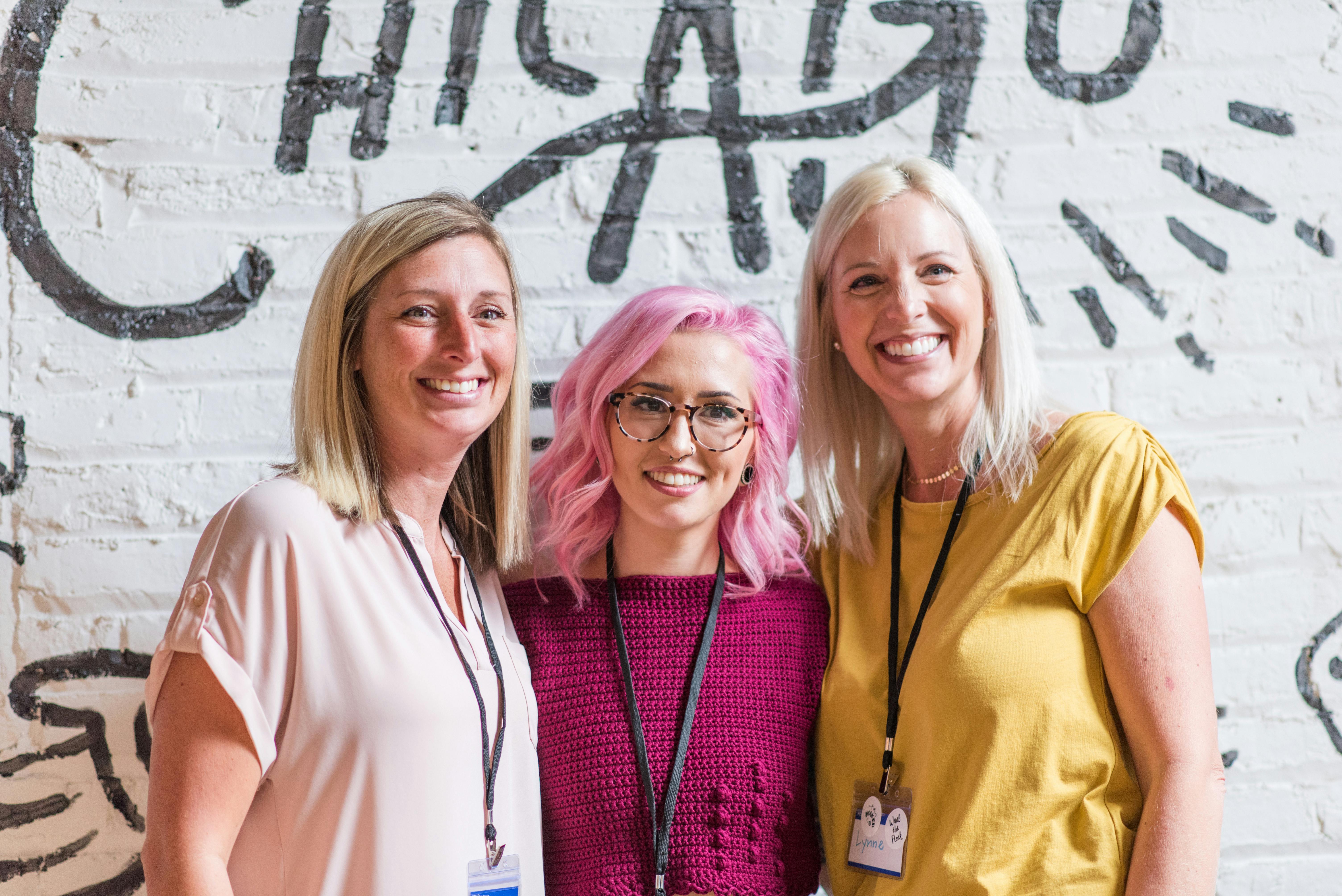 Lynne and Kelli are a pair of lively and down to earth sisters who attended OML 2018 together. During the day, we asked makers some of our burning questions, such as, "do you know the difference between an Alpaca and a Llama?". But all laughs aside, the most heartwarming response came from Lynne and Kelli after we asked, "what is the project you're most proud of, and why?" Immediately, the two looked at each other, and it was clear they both had the same answer in mind. Lynne explained the passing of their mother in February, and how they worked on a crochet blanket together that was laid on her coffin and buried with her. They told the story with just a couple sentences, but you could feel the strength of the sentiment. What resonated with us was the power of crochet to bring people together and create something so incredibly meaningful.
Until next year!
And there we have it! Just a few of the inspirational stories we heard at OML. One thing is clear: we all make for different reasons, but there is a common thread that runs throughout. Making, be it knitting, crochet, or sewing, has the power to create experiences, memories, and stories that bring people together.
Are you a maker, who has an inspirational story to share? We'd love to hear it! Join our community and share your next project with all the other inspiring makers out there!