Introducing Macramé spaghetti kits with Garofalo + how to video!
Published on

April 1, 2021
3

min read
Crafts and carbs, what could be better? We've teamed up with traditional Italian pasta makers, Garofalo, to bring you the world's first-ever macramé spaghetti kits. Follow along with our spaghetti macramé tutorial to make a gorgeous wall hanging.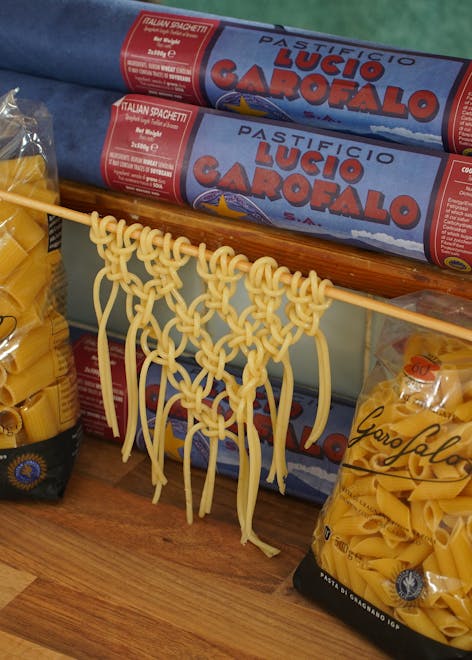 Why Macramé spaghetti is the next big thing 
The art of knotting cord, twine or rope to create macramé designs has been one of the most popular crafts this year. Four times as many of you makers have been searching for macramé craft ideas compared to this time last year. And what's knot to love? String bags, hanging planters and must-have wall hangings - there are endless macramé ideas to try.
Aside from crafts, our other great lockdown love has been pasta. Like a long-awaited embrace, a bowl of warm pasta is truly comforting. It seemed like a natural fit to bring two of our favorite things together to create the first macramé spaghetti kit! Plus, pasta and crafting have long gone hand-in-hand. Remember creating dried pasta masterpieces at school? Or stringing together macaroni bracelets? Dried pasta has been a staple in our craft stash since the dawn of pasta! It's time we give pasta its rightful place in the grownup craft world.
Fun Macramé patterns to try!
Seriously dough, why Garofalo?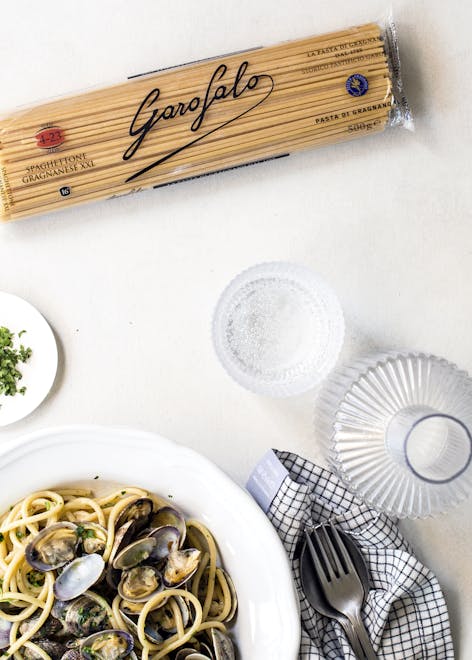 Choosing the right pasta for our macramé kits was all about getting the quality right.
Garofalo's artisan pasta is made only with the highest quality wheat and water. Its rough porous surface is created as the dough passes through a bronze die to form each shape, which makes it fantastic for holding its shape in macramé projects. There are over 76 shapes available from Garofalo's world of pasta. Check out the different shapes that are perfect for making bowls, baskets, wall hangings, and more.
Garofalo has been making artisan pasta in Gragnano, Italy, since 1789. It's known as the homeland of pasta, and it's here Garofalo has built a world-renowned brand, dedicated to quality and taste.
Win the ultimate pasta and craft bundle!
To celebrate our collaboration we're giving you the chance to win £50 voucher to spend on LoveCrafts + the ultimate Garofalo pasta bundle - including pasta, exclusive apron, and delicious sauces!
Waste knot, want knot
If you have any pasta leftover, try the delicious recipe below. Pasta Garofalo is available to buy in the UK at Ocado, Amazon, Booths, and local stockists.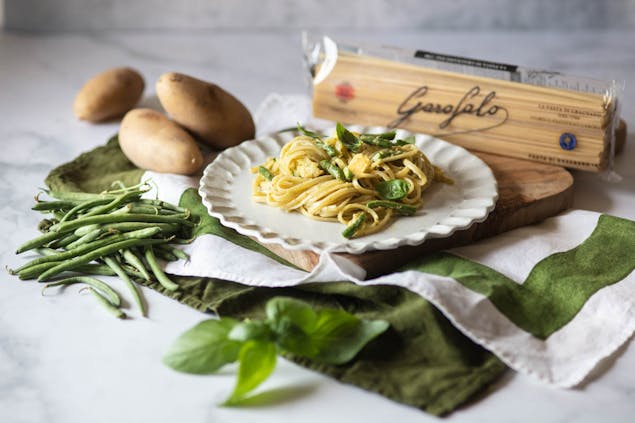 Materials
200g green beans, topped and tailed and cut in half

250g potatoes, peeled and cut into small cubes

400g Garofalo Linguine

For the pesto:

50g basil leaves

1 clove of garlic

20g grated Sardinian pecorino cheese

50g parmigiano reggiano [parmesan]

15g pine nuts

100ml extra virgin olive oil

Coarse salt to taste
Linguine with Genoese pesto, potatoes, and green beans.
Ingredients for 4 people
Crush the garlic clove in a pestle and mortar with a few grains of coarse salt, until creamy. Add the pine nuts and continue crushing. Next, add the basil and use circular movements with the pestle to crush the leaves against the edge of the mortar. Add the cheese to the mixture along with a steady stream of olive oil, mixing well until you have your pesto. 
Place a pan with plenty of water on the heat. When the water comes to a boil, add salt and the potatoes. 
After 5 minutes add the linguine to the potatoes and cook for the time indicated on the pasta pack (11 minutes for Linguine). 
4 minutes before the pasta is cooked, add the green beans to the pot and cook all together. 
Whilst the pasta and vegetables finish cooking, gently heat the pesto in a large pan. Once cooked, drain the pasta and vegetables, add to the pesto and stir together well. 
Serve with a sprinkle of parmesan and some basil leaves.
Can't wait to get your hand on a spaghetti macramé kit? Try these macramé kits instead!