Love is in the air – and hearts are all over the place. Elizabeth Bagwell shows you how to knit a quick and simple love heart.

Little knits like this are a great way to use up scraps of yarn. They're cute, quick and fun – ideal for a last-minute gift or a tiny treat to tuck into a pocket. Little shapes are also a charming way to personalise gift wrap, so even without a label the recipient will know who gave it.

In the example shown, I used DK yarn and 4mm needles. The heart made was about 8cm wide at its widest point. This is a good size for an ornament or gift tag, but too small for a coaster. Instructions are included below for how to make the heart bigger.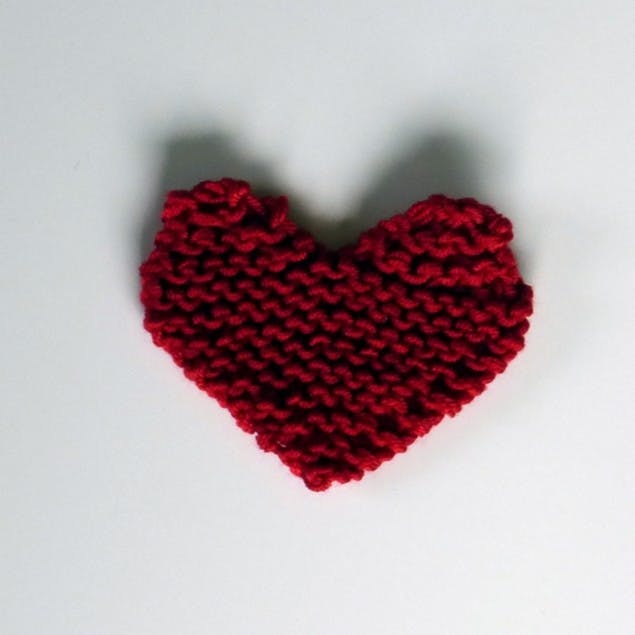 1
Knitted heart pattern
Cast on 1 stitch
Row 1: (K1, P1, K1) into same st. [3 sts]
Row 2 and all even rows: knit.
Row 3: kfb twice, K1. [5 sts]
Row 5: kfb, K to last 2 sts, kfb, K1. [7 sts]
Row 6: knit.
Repeat rows 5 and 6 until you have 17 sts.
Next row: kfb, knit to end [18 sts]
Knit 4 rows.
2
Knit the rounds of the heart.
You will now work each of the top rounds of the heart separately.
Row 1: ssk, K5, k2tog. [9 sts worked]
Row 2 and 4: Stop mid-row, turn and knit back. Note: there is no need to use a stitch holder for such a small project, simply ignore the remaining stitches and leave them on the needle.
Row 3: ssk, K3, k2tog.
Row 5: ssk, K1, k2tog.
Cast off.
3
Rejoin yarn to knit second half.
You should be mid-row, effectively at the centre of the heart.
Row 1: ssk, K5, k2tog. [9 sts worked]
Row 2 and 4: knit.
Row 3: ssk, K3, k2tog.
Row 5: ssk, K1, k2tog.
Cast off.

Weave in ends and you're done.
How to adjust the heart pattern
Changing the size
You can knit this pattern using yarn of any weight and fiber. Naturally, if you use thinner yarn (4ply or sock, for example) the pattern will come out smaller. Larger yarn (chunky or aran) will make a larger heart.

Alternatively, you can continue to increase until the heart is as wide across as you want it to be (12cm is probably about right for a heart-shaped coaster; tiny ones would make a lovely Christmas tree decoration.)

After this, knit 4 rows plain. If you've made the heart much larger, knit extra rows here. I suggest about 2 rows plain per 7 stitches, but you really need to go with what looks right, as it will vary depending on your tension and yarn.

Count your stitches. Decrease until you have about a fifth to a quarter of the total number left, then cast off. Remember, you're only decreasing on half the stitches at one time. Repeat for the other side.


Changing stitch pattern and other tweaks

Stocking stitch hearts are easier to decorate. To swap garter for stocking stitch, simply purl the even rows instead of knitting. Remember that stocking stitch tends to curl, even if it has been blocked. You could also throw in some moss or seed stitch.

On a larger heart, a patterned band across the straight section could be very attractive. You could also sew two hearts together to make a lavender pillow or tree ornament. Really, the options are endless!