Top 5 free aran sweater knitting patterns for men
Published on

December 14, 2018
By

Emma
2

min read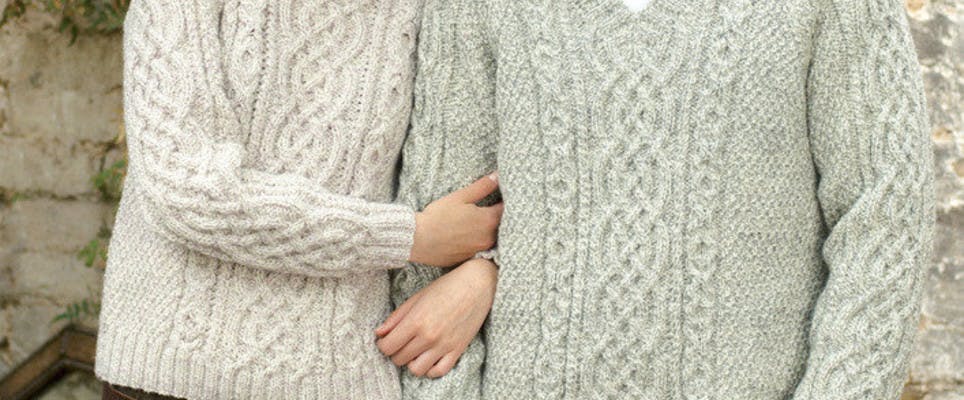 Whether you call it an aran, cable knit or fisherman's jumper, there's a lot of joy to be had from knitting yourself, or someone else, one of these traditional sweaters. Here's a collection of our favourite free aran sweater patterns for you to get your needles into.
Raglan Cabled Pullover
Traditionally fisherman's sweaters would have been made in undyed yarn, so all that lovely lanolin (sheep oil) stayed in the fibres and kept the sailors nice and dry. This pattern by Lion Brand made in Wool Ease Thick & Quick may be made of modern fibres, but the style and natural tones definitely give it an authentic feel.
Guido Sweater
It may not be a traditional aran sweater, but this really beautiful take on the cabled classic is a must have make from Debbie Bliss. With an elegant cable edging to this V neck sweater it's a great beginners introduction to get to grips with those twisty cable designs.
Straum Sweater
This pattern takes the traditional aran design and uses it to create a satisfying panel of cables. With a neckline that gives a nod to the current trend of 90's retro you'll be knitting up a style icon!
The Hayfield Bonus Aran
This classic sweater pattern by Hayfield has a beautifully intricate 'Celtic knot' design on interlacing cables, bordered on each side by a thin rope cable. With lots of twists and turns to get your needles into it can be worked in aran or worsted yarn.
The Northshore Cardigan
This timeless Northshore Cardigan by Lion Brand is classic grandad chic to a tee. With gorgeous cables running the length of the arms, this cardigan is cozy, comfortable and easy to wear.