Merion loves to crochet with all weights of yarn, but finds herself falling back in love with DK. Discover her favorite DK yarns and fabulously floral patterns to make with them!
Do you find that you go through phases when you adore different weights of yarn? I'm going through a DK phase at the moment, and am totally in love with lighter weight yarn!
DK weight yarn is perfect for the warmer months, it creates a fabric that is comfortable to wear without bulk. In the winter, DK yarns provide necessary layers, but during warm weather when you might just need something to keep the breeze off, it brings cover-up qualities and comfort around the shoulders.
So what better way to celebrate my current DK yarn obsession, than pairing it with some fabulously floral patterns!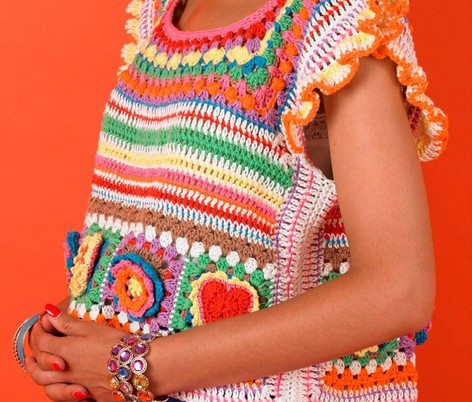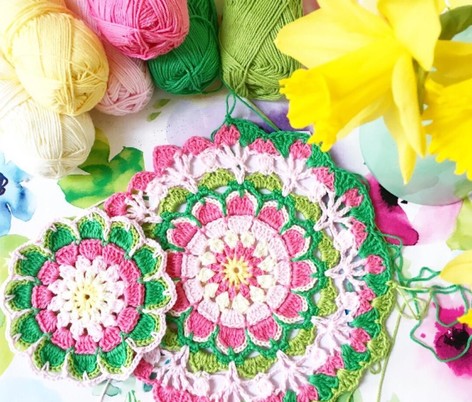 Debbie Bliss Rialto DK
This is a sumptuous merino wool that comes in over 50 shades – perfect for a soft and cozy scarf for the winter, in such stunning colors that I want to gather up the whole collection in my arms and fall on to the sofa singing with it. You get the picture. Slightly muted, slightly nostalgic – delicious.
Berroco Vintage
The vintage is a fabulous wool and acrylic blend, and the whopping 87 shades provide a huge palette to choose from. This is a gorgeous yarn for crochet because it's washable, therefore perfect for blankets. It is classed as an aran weight yarn, but I've used it, and it's much more of a DK. The suggested hook size is 4.5-5mm but I'd be happy with a 4mm here.
Unleash your inner flower power
Cascade Ultra Pima
I swoon every time I look at this yarn at the moment – partly because of the deliciously soft cotton feel, but mostly because of the glorious rainbow of colors in the range. It crochets happily as a DK and doesn't split.
Paintbox Yarns Cotton DK
The Paintbox Yarns color palette never fails to amaze me, choosing from all the beautiful shades is the hardest part of my yarn-buying habit! The cotton DK is beautifully soft and doesn't split so you'll be able to work up a summer shawl in no time at all!
Free florals to add to your project list