7 utterly amazing cake pop decorating ideas!
Published on

April 11, 2022
4

min read
Looking for cake pop decorating ideas? We've a load of super easy cake pop decorating tips to get you started! Cake pops are a lollipop and cake hybrid, the perfect sweet treat! They make an excellent choice for birthday parties, baby showers and even weddings as you don't need to worry about serving up – you can just grab a cake pop and go!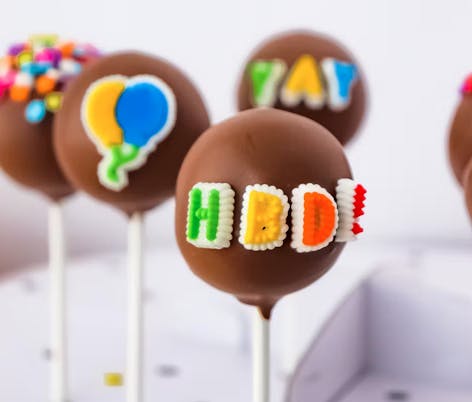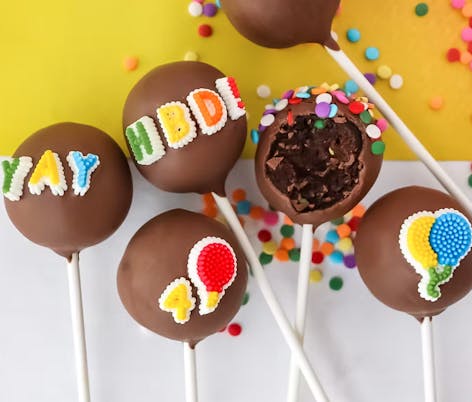 Let's start with the basics...
If you've never made cake pops before, don't worry! They couldn't be easier to make. All you need is a cooled cake to crumble up and mix with a sumptuous buttercream frosting. You can learn how to make the delicious chocolate cake pops above with our simple step-by-step tutorial.
Pipe beautiful blooms 
Both piping pros and ambitious beginners are sure to be blooming delighted by this flower cake pop decorating technique. Use your favorite cake recipe to make the base then cover the little spheres in Candy Melts and chill to set. Once they're set, it's time to get creative with a medium consistency buttercream frosting and a variety of petal piping tips. 
Create the dahlias by starting at the bottom of the cake pop with the stick facing away from you and piping rows of U-shaped petals. For the carnations, start at the top of the cake pop and pipe short, loose zig-zags, tucking each petal underneath the previous one. These make the perfect bake for Mother's Day!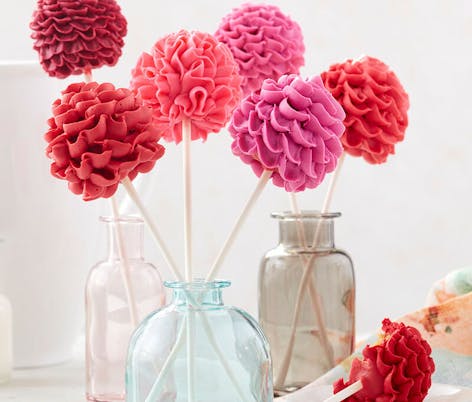 Go crazy for Candy Melts
These fabulously fruity cake pops are a prime example of how Candy Melts can be used for cake pop decorating! Decorated to look like lemons, limes, grapefruits, kiwis, papayas and watermelons, these brilliantly bright and colorful cake pops are sure to bring the fun to any party! 
Start with your favorite cake recipe for the filling, then dip your bakes in Candy Melts in the background color. Grab a piping bag with a writing nozzle, and create beautiful, delicate decoration.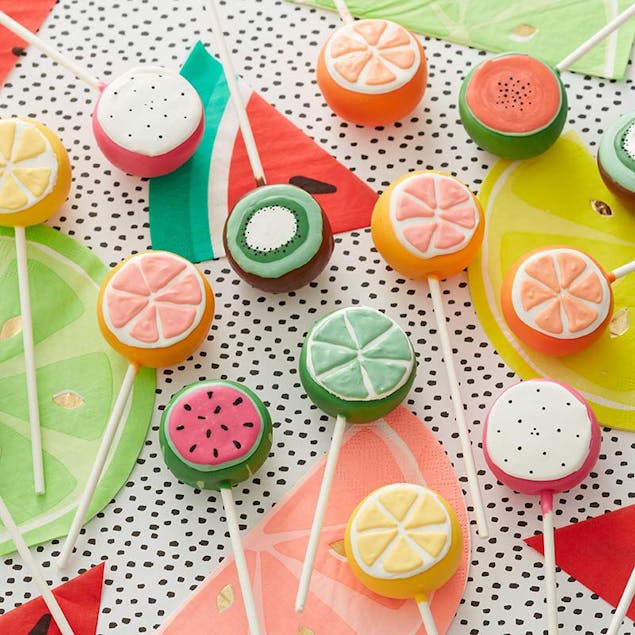 Create characters with edible markers
If you've got little chefs at home, this is a brilliant way of getting them involved in cake pop decorating! These Halloween-themed cake pops are covered in Candy Melts and then edible markers are used to bring the characters to life!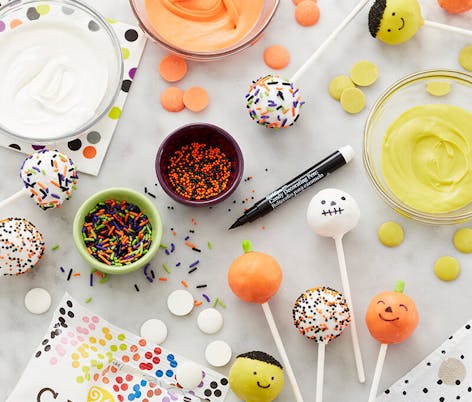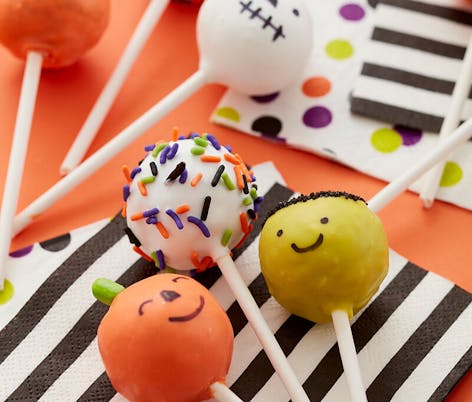 Dip and drizzle
Another cake pop decorating technique that's as easy as it is impressive is dip and drizzle! Simply cover your cake pop in a layer of chocolate or Candy Melts before drizzling with free-flowing frosting or chocolate. 
We love these Easter-themed cake pops which have been given an iridescent sheen with a lustre spray.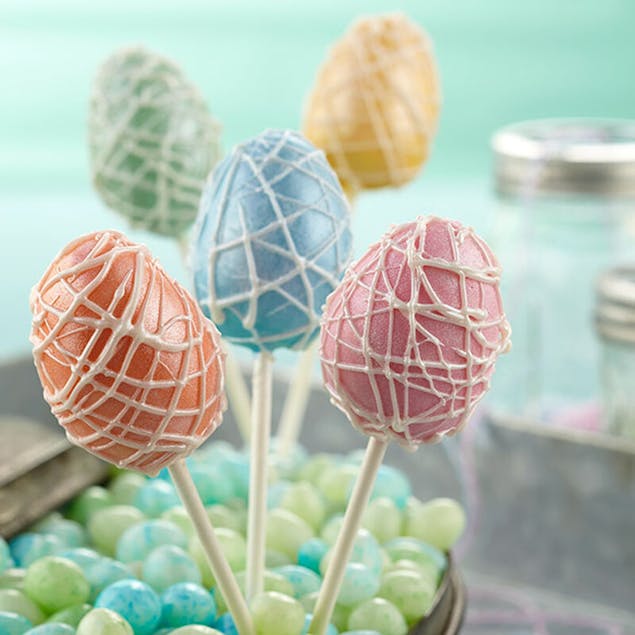 Make magnificent marble effect cake pops 
These super cool marble effect cake pops couldn't be easier to make! You can use royal icing, different types of chocolate or colored Candy Melts to create this magnificent marble effect. All you need to do is dip your cooled cake pop into the base layer, pipe on a drizzle of the marbling color, then pop the cake pop back into the base layer and swirl it around. When you remove the cake pop, it will be magically marbled!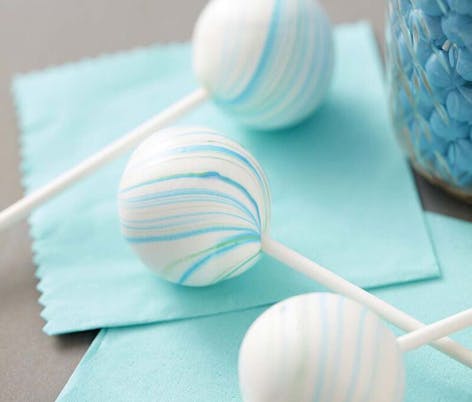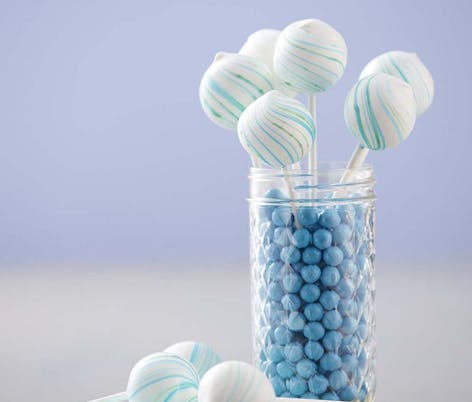 Cover with sprinkles!
When in doubt, add sprinkles! Dip your cake pops in a layer of chocolate or Candy Melts and cover with sprinkles before leaving to cool. This has to be the simplest of cake pop decorating ideas, but it doesn't make it any less effective! Change up the colors and sprinkles to suit any theme, from baby showers to kids birthday parties! 
These red velvet cake pops are a prime example of how a shake of sprinkles can transform a plain cake pop into a romantic Valentine's Day treat!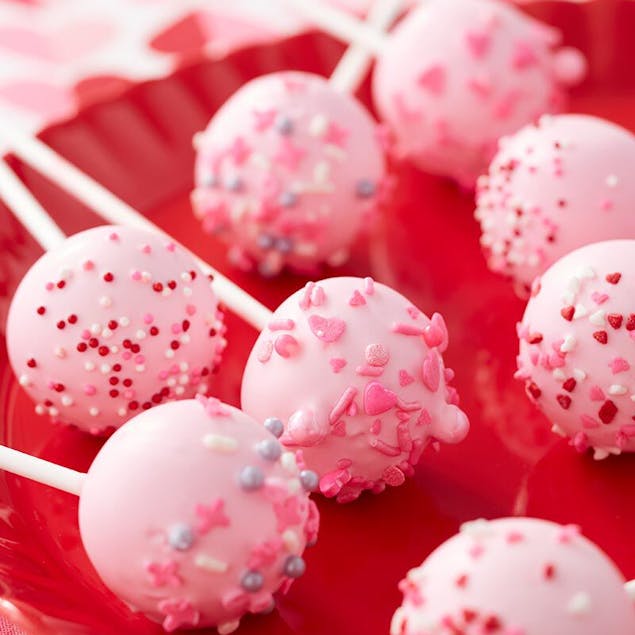 Add crunch with crackers or biscuits
If you like to keep it simple in the kitchen, this is one of the best easy cake pop decorating ideas! These cheesecake cake pops are seriously tasty – made from a combination of cream cheese and Candy Melts and rolled in crumbled biscuits for a rustic look.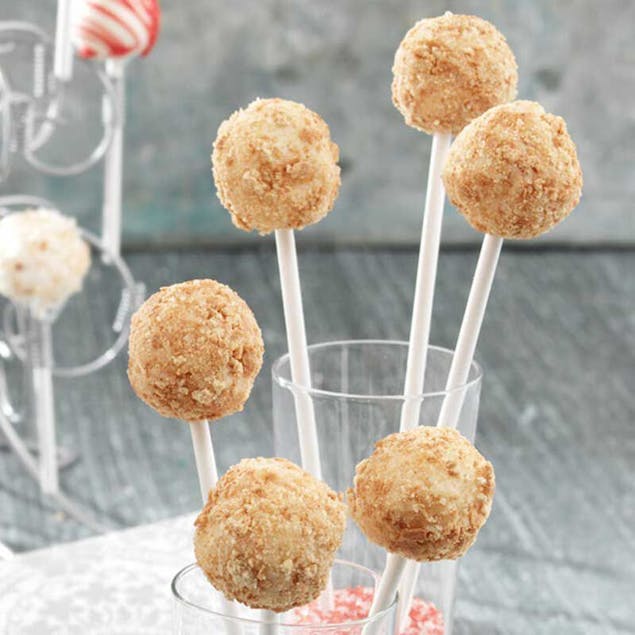 More brilliant baking inspiration