How to figure out yarn substitutions
Published on

August 1, 2016
By

Elizabeth Bagwell
7

min read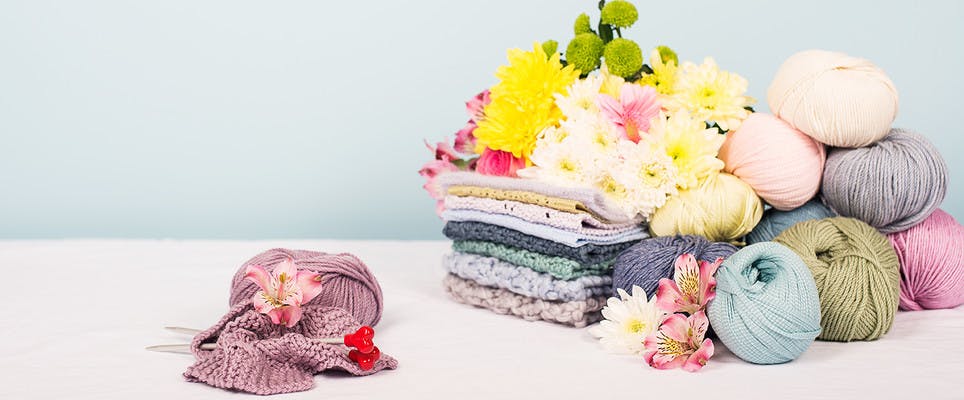 Whether you've just discovered that your fave yarn has been discontinued or you're working with a ball that's lost its band? Or, do you have an allergy and are looking for a replacement yarn that will be more gentle to your skin? We've got you covered! Figuring out yarn substitutions is a fab skill for any crochet or knit-a-holic who might need to improv with their stash or try something different.
Pick up some of Elizabeth Bagwell's top tips and tricks, use our handy chart below and read our useful guide to yarn weights for all the info you need to help you substitute your yarn!
Let's get started
When you know what your yarn weight is, and you know what yarn weights you have in your stash, we can get started. If you're looking to substitute yarn fibers (i.e wool versus cotton) keep that in mind, as yarn fibers make a big difference when making yarn substitutions.
If in doubt, we always recommend knitting or crocheting a swatch before making your project, so you can check the gage, stretch and texture before committing to your new yarn.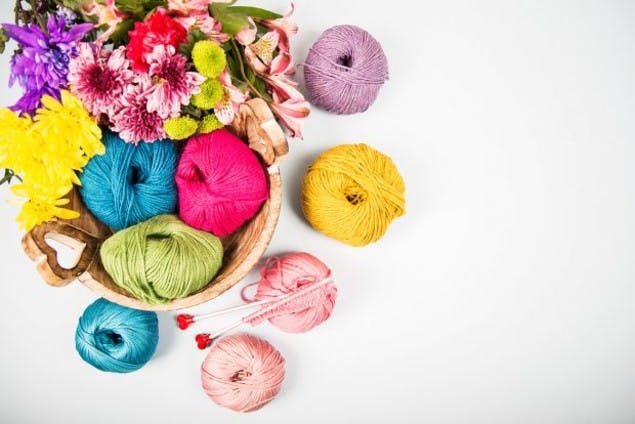 Yarn fibers
It's important to know your way around the different fibers on the yarn block because each type has unique characteristics, which might work for some projects better than others. From plant based fibers such as cotton or bamboo to animal fibers like alpaca and wool, the type of fiber you choose will impact the drape, stretch and stitch definition of your knitting or crochet. 
When it comes to TLC, different fibers need different care. If, say, you're substituting a yarn for a baby blanket, you might want to use a fiber like acrylic that can be easily popped into the washing machine! Or if, say, you're making that cool summer tote - you might want to choose a cotton or t-shirt yarn because of its light and breezy finish! Knowing your fibers means you have more power to choose the right substitute to suit your project.
Stretch
Some fibres have more stretch than others. If your pattern calls for one particular fiber, substituting with a yarn of same fibers. Another option is to use a blended fibre yarn (we recommend knitting a swatch to check!)
Generally, plant based fibers do not stretch as much as animal fibers, unless they are blended with polyester, elastane, or acrylic. This is thanks to the cellular makeup of plants, with their rigid block-like formations. Plant fibers can be distinct from each other, and so substitutions greatly depend on an individual yarn.
Man-made yarns have a wide range of stretch depending on the fiber and construction of the yarn. The best way to be sure when using an acrylic yarn to substitute, is to read reviews on the yarn and sneak a peek at how much twist the yarn has. More twist usually means more stretch, whereas less twist means a more rigid yarn.
How to substitute yarn fibers
Substituting yarn is a tricky thing to do, especially with patterns that require a specific gauge. Garments can be ruined by improper yarn substitutions, and almost every knitter has a story about a project that went wrong. The first thing to remember, is to swatch, swatch, swatch. I know it's not any fun, and I know that it's boring, but it is absolutely essential when making yarn substitutions.
Compare yarn lengths
When substituting yarn, it's super important to check the yardage, which is the length of your yarn, in your new ball or skein compared to the one you are substituting. This matters as different brands and types of yarn come in different amounts, and when you're following a pattern or making a new garment you will want to make sure you have enough for your project. 
Yarn lengths are usually measured in yards or meters, and this information is usually found on the pattern you are working with and/or your ball band. To figure out how much yarn you'll need for your project, find out the total amount of yardage needed (it should say on your pattern) and divide this by the amount of yardage in the ball of the yarn you are wishing to use as a substitute, which will tell you how many balls you will need to substitute the original.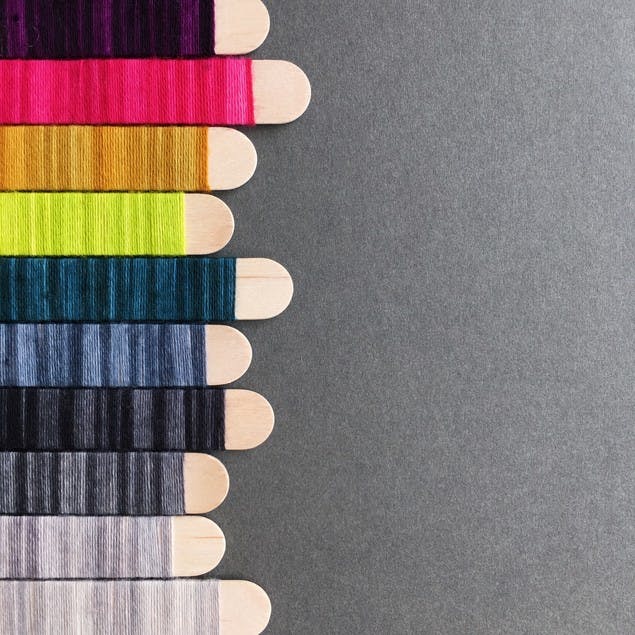 Compare yarn weights
When determining the weight of a new yarn, wool mills and yarn suppliers usually adhere to an industry standard. They label a yarn based on "wraps per inch" to determine thickness and weight, but sometimes that industry standard can be a little bit blurry. For example, a super bulky yarn is defined as being anything with less than seven wraps per inch. But that can be a big difference if you consider that some super bulky yarns have six wraps per inch, and some have two wraps per inch – that can make a monumental difference when making yarn substitutions!
A good rule of thumb is to substitute worsted yarns for worsted yarns, making sure you check the ball band for gauge recommendations, and doing a wraps per inch test wouldn't hurt either.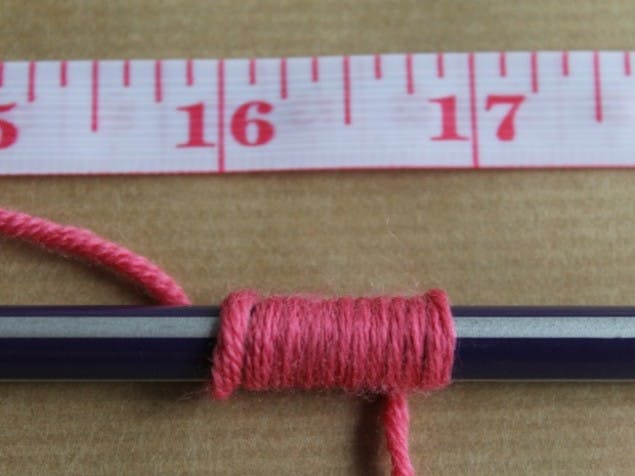 Dealing with discontinued or unavailable yarn
You have a beautiful pattern, but it features an old, discontinued yarn – or a yarn that you definitely can't afford. What next? The first step is to compare the yarn weight. If the pattern suggests a DK weight yarn, then look at DK weight yarns to substitute. Compare tensions, knit a swatch, and be sure that you are using the size of needles that the pattern calls for.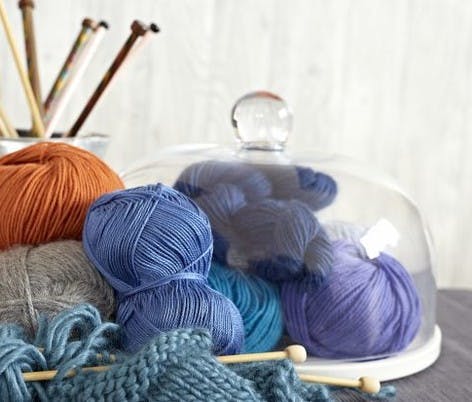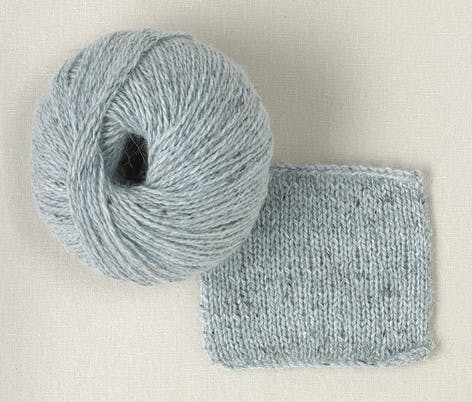 Vintage patterns
We're heading into brave territory here – many vintage patterns no longer have yarns available, and the weight they suggest might sound completely foreign. There once was a time that there wasn't an industry standard of yarn weight, and sometimes the weight instead referred to the number of plies the yarn had. When knitting a vintage pattern, you'll need to do some research! Look around on the internet for information on the old yarn and see if you can discern the weight. If not, you'll need to do some serious experimenting with swatching to find the right yarn weight for the pattern.
Double stranding a lighter weight yarn to create a heavy weight yarn
Beware all who attempt this – without knitting a swatch, you are playing with fire. Some knitters are pros at making yarn substitutions in this way, with experience gleaned from decades of advanced knitting. For the rest of us, this method can be fraught with problems, especially when knitting a garment.
That's not to say that this method is impossible – just more challenging. For example, it can be possible to use two strands of DK weight yarn to make a worsted/aran weight yarn, or two strands of worsted/aran to make a bulky yarn. This can certainly be done with success, but only if you knit a swatch first.
In case you haven't noticed, the lesson here is: always knit a swatch first!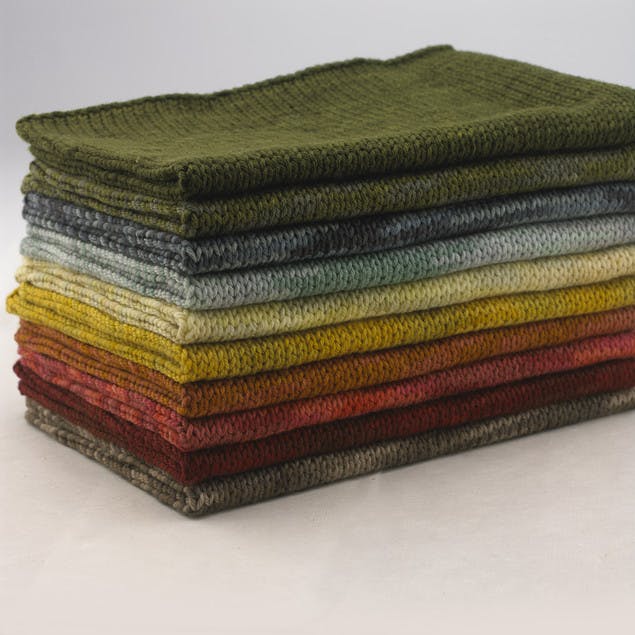 FAQ
Here's the part where we answer some of your most popular questions!
'Can I substitute DK yarn for worsted?'
You can! But it's worth bearing in mind that DK is a slightly thinner yarn to worsted, so the best way to substitute is by going up a needle or hook size so that the tension will be the same. Another option is to double up your DK and use a bigger needle or hook size, but whatever you decided you just need to make sure the gage is matched.
'Where can I find discontinued yarn?'
There are lots of places to find discontinued yarn, but we recommend contacting the yarn manufacturer as first port of call. You might find that they have balls of discontinued yarn left behind in their stock room. You never know!