12 irresistibly huggable jumper patterns
Published on

18 December 2020
By

Emilia Johansson
2

min read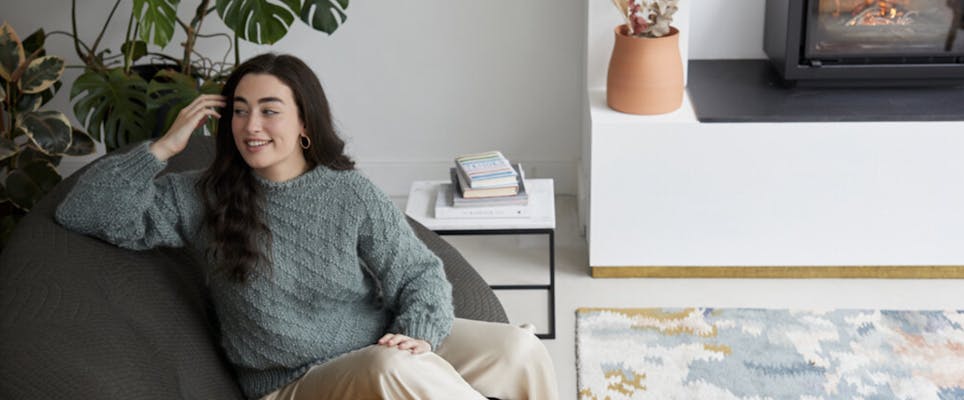 Cosy down on the couch and embrace yourself in a soft sweater or cardigan. Or let soft, fluffy yarn run through your fingers while knitting or crocheting. Enjoy taking some time for self-care and celebrate all things snuggly and cuddly!
Why hugging?
The feeling of something wrapped around you is calming. Hugs are a great way to enjoy a feeling of calm and it's said that hugs can reduce stress and even pain. The softness and pressure against your skin is soothing and gives you a sense of warmth and happiness. 
Huggable sweaters
Sweaters or cardigans made in the softest of fibers like mohair and alpaca are the perfect huggable garments. Another great option is to wear chunky knitwear with a lot of ease and sleeves with room to tuck in your hands. 
Knit
Beautiful sweaters knitted in the softest mohair. Make a soft hoodie all in mohair or a sweater using a mix of wool and mohair.
Crochet
Crochet a hug of your own in mohair or soft alpaca yarn. Enjoy the process with soft yarns while making a sweater or cardigan you will have a hard time to take off once it is finished.
Men
A mix of soft and chunky knit and crochet patterns perfect for men. Enjoy cables, colour work or why not a nice collar? Make sure to use a soft yarn and it will be a great wear to feel a bit of extra love during the colder months.
Enjoy the softest of yarns
A good trick to make a garment even cosier is to add a strand of mohair while making the garment.  That extra strand of mohair will make it so soft and cosy that it will be hard to take off. 
Use fibers like mohair, alpaca, silk, cashmere and mixes of them to make your most huggable item. These fibers also work great for scarves, hats or maybe a blanket to wrap around you.